Burlington Township Sports Club Foundation Apparel
Proceeds of purchased apparel will be applied to youth scholarships and supplemental funding from the Burlington Township Sports Club Foundation in support of our Burlington Township youth for their participation in rec and travel sports.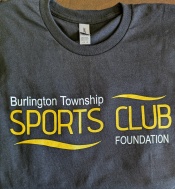 You can show support by purchasing a BTSCF T-Shirt all year long !
100 percent of T-Shirt revenue is applied to Scholarships for High School Seniors and to off-set costs for children who want to play sports where there may be a financial hardship. Your help makes a difference.
Size Youth Small to X-Large are $15.00
Burlington Township Sports Club Foundation Apparel link
We appreciate and thank you your support and ask you to please share our link with friends and family to support our township kids !
Our Pink Out sweatshirts are to support Breast Cancer survivors and family of loved ones who have had breast cancer. BTSCF is dedicated to supporting Breast Cancer Awareness for the month of October and also throughout the year always. All monetary apparel proceeds made are used for and towards our youth.
Thank you
BTSCF